Review article
Open Access
A clinician's guide to understanding resistance to thyroid hormone due to receptor mutations in the TRα and TRβ isoforms
Clinical Diabetes and Endocrinology
2017
3:8
Received: 31 March 2017
Accepted: 6 September 2017
Published: 15 September 2017
Abstract
There are two genes that express the major thyroid hormone receptor isoforms. Mutations in both these genes have given rise to Resistance to Thyroid Hormone (RTH) syndromes (RTHβ, RTHα) that can have variable phenotypes for mutations of the same receptor isoform as well as between the two receptor isoforms. In general, the relative tissue-specific distribution of TRβ and TRα determine RTH in different tissues for each form of RTH. These differences highlight some of the isoform-specific roles of each TR isoform. The diagnosis of RTH is challenging for the clinician but should be considered whenever a patient presents with unexplained elevated serum free T4 (fT4) and unsuppressed TSH levels, as well as decreased serum free T4/T3 ratio. Here we provide a guide for the clinician to diagnose and treat both types of RTH.
Keywords
Resistance to thyroid hormoneThyroid hormone receptorsDominant negative activityThyroid stimulating hormoneHuman mutation
Background
Fuller Albright first showed that pseudohypoparathyroidism represented a form of hormone resistance syndrome 75 years ago [1]. Since then, others have used clinical, biochemical, and molecular studies to identify many examples of hormone resistance with mutations in their corresponding receptors [18]. Indeed, hormone resistance due to mutations in many nuclear hormone receptors (NRs) such as the estrogen, glucocorticoid, peroxisome proliferator activator, and vitamin D receptors have been identified in affected individuals [53]. Similarly, numerous cases of resistance to thyroid hormone (RTH) and the corresponding mutations in the genes encoding human thyroid hormone receptors (TRs) have been reported.
In this current review, we will focus on a brief description of TRs and thyroid hormone (TH) action, as well as new clinical, biochemical, and molecular insights into RTH obtained from patients harboring mutations in the two TR isoforms, TRβ and TRα. After the recent identification of RTH in patients with mutations in the THRA gene, a new nomenclature was adopted to distinguish between types of RTH due to specific TR isoforms (please see below) [34]. The RTH syndromes due to TRβ and TRα are now called RTHβ and RTHα, respectively. Since RTHβ was identified and studied almost 50 years before the identification of RTHα (even though the precise mechanism for the former was not known at the time) [35], we will discuss RTHβ first. Mutations in the TH transporter, MCT8, and selenoprotein mutations that affect intracellular TH concentration but do not affect the function of TRs also have been identified. For more details on these syndromes, the reader is referred to several excellent recent reviews [15, 47]. New insights on the two forms of RTH have led to better understanding of the roles of the two TR isoforms on the function of different tissues as well as the regulation of the hypothalamic, pituitary, and thyroid (HPT) axis. Considering RTHβ and RTHα as potential diagnoses for abnormal thyroid function tests requires a rational approach for distinguishing these syndromes from other causes of inappropriate TSH secretion and low serum T4/T3 ratio, respectively, and will be discussed in more detail later in this article.
Thyroid hormone action
THs are involved in the regulation of metabolism, proliferation, and growth of most tissues [5, 12, 28]. Serum TH levels are tightly controlled by the HPT axis to deliver appropriate amounts of TH to target tissues. The two major THs (T3 and T4) are iodothyrosines synthesized by the thyroid gland under the control of thyrotropin/thyroid stimulating hormone (TSH), a glycoprotein heterodimer that is produced by the pituitary gland. TSH, in turn, is regulated by thyrotropin releasing hormone (TRH), a tripeptide generated by the hypothalamus that is released into its own portal system to reach the pituitary. Both the production of TRH and TSH are under negative feedback control determined by the circulating free TH concentrations. Circulating THs, particularly T4, are mostly bound to transport proteins such as thyroxine-binding globulin (TBG), transthyretin (TTR), and albumin (HSA, human serum albumin). TBG binds 75% of serum T4 whereas TTR and HSA bind approximately 20% and 5%, respectively.
Although T4 is the major secreted form, T3 is significantly more potent than T4 and binds to TRs with 10-fold higher affinity [21, 25]. Thus, T3 is considered the active form of the hormone whereas T4 serves primarily as a less active precursor. After delivery to target tissues, THs utilize transporters (e.g., MCT8, MCT10, and OATP1C1) to cross the cell membrane and enter the cell [9]. THs then are metabolized by the iodothyronine deiodinases (Dio1, Dio2, and Dio3), a subfamily of selenoproteins [8]. The deiodinases serve as additional control points for TH action by regulating serum and intracellular TH concentrations. In particular, activation of TH is mediated by Dio1 and Dio2 conversion of T4 to T3 whereas inactivation of TH is regulated by Dio3 conversion to metabolites such as reverse triiodothyronine (rT3) and diiodothyronine (T2) [44].
Thyroid hormone receptors
TRs belong to the nuclear receptor (NR) family that includes the steroid hormone, vitamin D, peroxisome proliferator activator, and retinoic acid receptors. Unlike peptide- or protein-binding receptors that are located on the cellular membrane, NRs are intracellular and bind to their cognate hormones either in the cytoplasm (steroid hormones) or nucleus (TH, vitamin D, retinoic acid) [
53
]. After binding to hormone, they have the ability to bind to hormone response elements (HREs) located in the promoter regions of target genes. As such, NRs can be considered hormone-inducible transcription factors. There are two major
THR
genes,
THRA
and
THRB
, that are expressed in a tissue-specific manner [
12
]. Two major
THR
A receptor splice variants (TRα1 and TRα2) are encoded by the
THRA
gene (Fig.
1a
) and two major
THRB
isoforms (TRβ1 and TRβ2) are generated by alternate promoter choice on the
THRB
gene (Fig.
1b
). TRα1 is highly expressed in the heart, bone, and skeletal muscle whereas TRα2 is widely expressed throughout the whole body. The alternative splicing of the
THRA
mRNA transcript leads to changes in the carboxy-terminus sequence of TRα2 that renders it incapable of binding to TH. It is possible that TRα2 may regulate alternative splicing of the
THRA
gene or may interfere with TRα1 action at the protein level. TRβ1 is predominately expressed in brain, liver and kidney whereas TRβ2 is found in the pituitary, retina, and cochlea. TRα1, TRβ1, and TRβ2 bind T
3
with similar affinity.

TRs have a modular structure, with a central DNA-binding domain and a C-terminal ligand-binding domain [
5
,
12
,
28
]. They typically will bind to DNA as heterodimers with another nuclear hormone receptor family member, retinoid X receptors (RXRs) (Fig.
2
). These heterodimers can recognize specific DNA sequences, thyroid hormone response elements (TREs), located in the promoter regions of target genes. TREs typically are composed of two-half sites, most often organized as direct repeats, separated by 4 nucleotides (consensus DR4: 5′(A/G)GG(A/T)CANNNN(A/G)GG(A/T)CA 3′). TRs bind in a head to tail orientation with the upstream 5′ half site of DR4 bound by RXR and the downstream 3′ half site by TR. Interestingly, both unliganded and liganded TRs can bind to TREs; however, ligand binding to TRs induces conformational changes in the receptor that facilitate the recruitment of co-activators with histone acetyltransferase (HAT) and methyltransferase activity to induce conformational changes at specific chromatin sites in the promoters of positively-regulated target genes. These changes generate a permissive local chromatin environment that enables the binding and recruitment of the general transcriptional machinery (Fig.
2a
) to the transcriptional start site and initiate transcription. In the absence of TH, TRs also can bind to TREs but they recruit co-repressors with histone deacetylase (HDAC) activity instead of co-activators/ HATs owing to their different conformation in the unliganded state. The co-repressor complex alters its surrounding chromatin structure by removing acetyl groups from histones to induce a conformational change in the histone structure that inhibits the binding of RNA polymerase II, and results in a decrease in target gene transcription (Fig.
2b
). TREs can be located near or far from transcriptional start sites. The co-activator or co-repressor transcriptional complexes bound to them can interact co-operatively with multiple TR/TRE complexes in the promoter region to further regulate transcription. Taken together, this model suggests that TR/RXR heterodimer binding to the TRE and its recruitment of co-activators/corepressors play important roles in TH-mediated gene transcription (see below). Recently, using a method to examine TR binding throughout the whole genome, chromatin immunoprecipitation sequencing (ChIP-Seq), it was found that TRs can bind to DNA with sequences that do not resemble TREs and in non-promoter regions [
4
,
33
]. Thus, it is likely that TRs interact with other transcription factors or chromatin via protein-protein interactions at these sites. There also is evidence that TH also may bind with low affinity to other non-TR proteins in the cell to mediate novel actions; but so far, these mechanisms are poorly understood [
12
].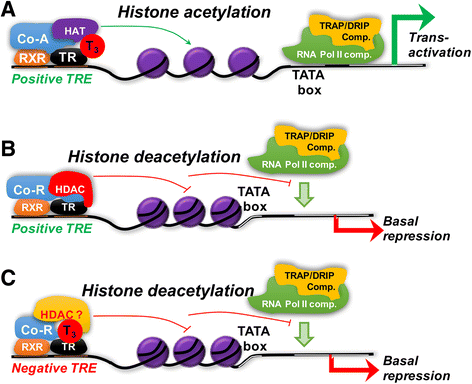 The transcription of approximately half of all target genes is negatively regulated either indirectly (through the activation/increased expression of repressor transcription factors) or directly by TRs (Fig. 1c) [29]. Currently, the mechanism for negative regulation by TRs still is not well understood. TSHβ and the CGA are two negatively-regulated target genes that are expressed in pituitary thyrotrophs. They generate two proteins, thyroid stimulating hormone β (TSHβ) and the common glycoprotein hormone α-subunit protein (α-GSU), that dimerize with each other to form TSH. Studies in pituitary-specific TR knockout mice suggest that the TRβ2 is the major isoform that controls the TH-mediated negative regulation of these target genes in the pituitary [51].
Resistance to thyroid hormone β
Resistance to thyroid hormone α (RTHα)
RTH in patients without TRβ mutations
Several patients with RTH have been identified who do not have TRβ or TRα mutations [31, 37]. Additionally, no mutations in various candidate co-factors involved in TR-mediated transcription were found. It is likely that epigenetic effects that alter the expression of various genes involved in transcription may be involved, although it has not been investigated in these patients so far.
Somatic TR mutations
Somatic TRα and TRβ mutations have been identified in human hepatic, thyroid, and renal cell cancers [19, 22] in addition to TSH-secreting pituitary adenomas [2, 3]. These findings suggest that TR mutations likely contribute to RTH in these tumors; however, they are not sufficient to cause oncogenesis since RTH patients with germline TRβ mutations do not appear to have an increased risk for cancer.
Conclusion
Although RTHβ and RTHα are rare genetic disorders that cause RTH, they need to be considered when patients present with enigmatic thyroid function tests. In particular, when patients present with high free T3 and T4 with non-suppressed TSH levels (RTHβ) or reduced free T4/ free T3 ratio with normal TSH level in the serum (RTHα). Associated with each condition are some characteristic features in their phenotype that also highlight the isoform-specific expression and particular roles of TRβ and TRα. The clinical spectrum for both RTHβ and RTHα is wide and heterogenous; moreover, there can be variable phenotypes in patients with the same mutations. These observations suggest that genetic and epigenetic modifiers likely play important roles in the phenotypes of affected individuals. The identification of TR mutations as causes for the two forms RTH, elucidation of their mechanism for causing resistance, correlation of genotype with phenotype, and the development of criteria for clinical diagnosis and treatment of RTH provide elegant examples of the convergence of basic, translational, and clinical research to improve the understanding and management of a genetic endocrine disorder.
Abbbreviations
ChIP-Seq:

chromatin immunoprecipitation sequencing
FDH:

familial dysalbuminemic hyperthyroxinemia
fT3 :

serum free T3 concentration
fT4 :

serum free T4 concentration
HAS:

human serum albumin
HAT:

histone acetyltransferase HREs hormone response elements
HPT:

hypothalamic, pituitary, and thyroid
IGF1:

insulin-like growth factor 1
NCoR:

nuclear receptor co-repressor
NR:

nuclear receptor
rT3 :

serum reverse triiodothyronine concentration
RTH:

resistance to thyroid hormone
RTHα:

resistance to thyroid hormone receptor α
RTHβ:

resistance to thyroid hormone β
RXRs:

retinoid X receptors
SHBG:

sex hormone binding globulin
TBG:

thyroxine-binding globulin
TH:

thyroid hormone
THRA :

thyroid hormone receptor β gene
THRB :

thyroid hormone receptor β gene
TR:

thyroid hormone receptor
TREs:

thyroid hormone response elements
TRH:

thyrotropin releasing hormone
TRIAC:

triiodothyroacetic acid
TRα:

thyroid hormone receptor α
TRβ:

thyroid hormone receptor β
TSH:

thyrotropin/thyroid stimulating hormone
TSHoma:

TSH-secreting pituitary adenoma
TSHβ:

thyroid stimulating hormone β subunit
TTR:

transthyretin
α-GSU:

common glycoprotein hormone α-subunit protein
Declarations
Acknowledgements
n/a
Availability of data and materials
n/a
Authors' contributions
Writing PMY Figures and writing BKS. Both authors read and approved the final manuscript.
Ethics approval and consent to participate
Manuscripts reporting studies involving human participants, human data or human tissue must: n/a.
Consent for publication
n/a
Competing interests
All authors read and approved the final manuscript.
Publisher's Note
Springer Nature remains neutral with regard to jurisdictional claims in published maps and institutional affiliations.
Open AccessThis article is distributed under the terms of the Creative Commons Attribution 4.0 International License (http://creativecommons.org/licenses/by/4.0/), which permits unrestricted use, distribution, and reproduction in any medium, provided you give appropriate credit to the original author(s) and the source, provide a link to the Creative Commons license, and indicate if changes were made. The Creative Commons Public Domain Dedication waiver (http://creativecommons.org/publicdomain/zero/1.0/) applies to the data made available in this article, unless otherwise stated.
Authors' Affiliations
(1)
Laboratory of Hormonal Regulation, Cardiovascular and Metabolic Disorders Program, Duke-NUS Graduate Medical School, Singapore, Singapore