Review article

Open Access
Thyroid nodule update on diagnosis and management
Clinical Diabetes and Endocrinology
2016
2:17
Received: 21 July 2016
Accepted: 26 September 2016
Published: 3 October 2016
Abstract
Thyroid nodules are common. The clinical importance of thyroid nodules is related to excluding malignancy (4.0 to 6.5% of all thyroid nodules), evaluate their functional status and assess for the presence of pressure symptoms. Incidental thyroid nodules are being diagnosed with increasing frequency in the recent years with the use of newer and highly sensitive imaging techniques. The high prevalence of thyroid nodules necessitates that the clinicians use evidence-based approaches for their assessment and management. New molecular tests have been developed to help with evaluation of malignancy in thyroid nodules. This review addresses advances in thyroid nodule evaluation, and their management considering the current guidelines and supporting evidence.
Keywords
Thyroid
Thyroid nodules
Molecular markers
Benign
Malignant
FNA
Management
Ultrasonography
Background
Thyroid nodule is a discrete lesion in the thyroid gland that is radiologically distinct from the surrounding thyroid parenchyma [1]. Thyroid nodules are common; their prevalence in the general population is high, the percentages vary depending on the mode of discovery: 2–6 % (palpation), 19–35 % (ultrasound) and 8–65 % (autopsy data) [2–4]. They are discovered either clinically on self-palpation by a patient, or during a physical examination by the clinician or incidentally during a radiologic procedure such as ultrasonography (US) imaging, computed tomography (CT) or magnetic resonance imaging (MRI) of the neck, or fluorodeoxyglucose (FDG) positron emission tomography; with the increased use of sensitive imaging techniques, thyroid nodules are being diagnosed incidentally with increasing frequency in the recent years [5, 6]. Though thyroid nodules are common, their clinical significance is mainly related to excluding malignancy (4.0 to 6.5% of all thyroid nodules) [3, 7–9], evaluating their functional status and if they cause pressure symptoms.
Diagnosis and evaluation of thyroid nodules
Thyroid nodules can be caused by many disorders: benign (colloid nodule, Hashimoto's thyroiditis, simple or hemorrhagic cyst, follicular adenoma and subacute thyroiditis) and malignant (Papillary Cancer, Follicular Cancer, Hurthle Cell (oncocytic) Cancer, Anaplastic Cancer, Medullary Cancer, Thyroid Lymphoma and metastases −3 most common primaries are renal, lung & head-neck) [3, 10, 11].
Initial assessment of a patient found to have a thyroid nodule either clinically or incidentally should include a detailed and relevant history plus physical examination. Laboratory tests should begin with measurement of serum thyroid-stimulating hormone (TSH). Thyroid scintigraphy/radionuclide thyroid scan should be performed in patients presenting with a low serum TSH [1]. Thyroid ultrasound should be performed in all those suspected or known to have a nodule to confirm the presence of a nodule, evaluate for additional nodules and cervical lymph nodes and assess for suspicious sonographic features. The next step in the evaluation of a thyroid nodule, if they meet the criteria as discussed later, is a fine needle aspiration (FNA) biopsy [12].
*Algorithm of thyroid nodule work up is presented at the end of the review (Fig.
1
).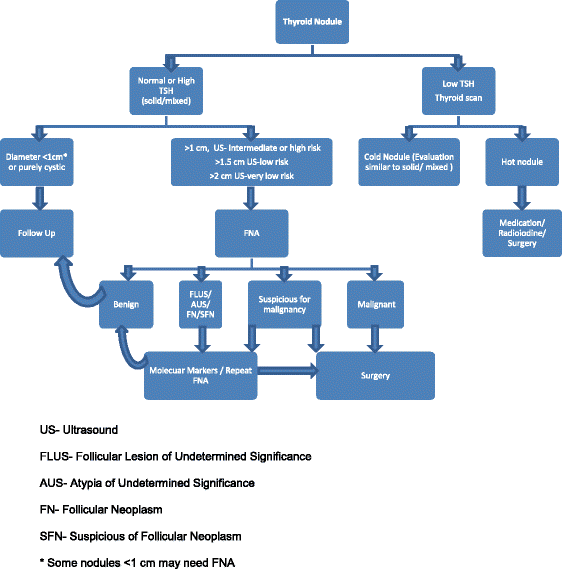 Management
Various factors including serum TSH, clinical risk factor assessment, size of the nodule, ultrasound characteristics, patient preferences and results of the FNA biopsy should be considered in management of thyroid nodule. FNA biopsy cytological diagnosis is the most crucial determinant in decision making.
For autonomous or hyperfunctioning nodules, if the patient has hyperthyroidism, management options include radioiodine therapy or surgery. If the patient has subclinical hyperthyroidism (low TSH with normal FT4), management depends on clinical risk of complications (atrial fibrillation in patients over the age of 60 to 65 years and osteoporosis in postmenopausal women) and the degree of TSH suppression [82–84].
Nodules less than 1 cm with some exceptions should not be biopsied and followed up closely [1]. Also for these patients the frequency and duration of follow up will depend on the additional risk factors present.
For nodules selected for FNA, management primarily depends on cytologic results. According to the Bethesda Classification scheme, FNA of the nodules yields six major results with subsequent different management for each category. However the management of indeterminate nodules (FLUS/AUS and FN/SFN) has similar principles and will be discussed together.
Conclusions
Thyroid nodules are common and carry a 4–6.5 % risk of malignancy. The initial evaluation in all patients with a thyroid nodule includes a detailed history and physical examination assessing risk factors, measurement of serum TSH and neck ultrasonography to assess the size and suspicious characteristics. Fine needle aspiration (FNA) biopsy is an accurate and cost effective way to evaluate thyroid nodules. Nodules with diameter < 1 cm with some exceptions require no FNA and can be observed with a follow up US. Patients with benign nodules are usually followed without surgery. Where available, mRNA classifier system or mutational analysis can be used for further evaluating FNA aspirates with cytology of follicular neoplasm or follicular lesion/ atypia of undetermined significance. Patients with cytology suggesting cancer should be referred for surgery. The high prevalence and increasing diagnosis of incidental thyroid nodules requires clinicians to adopt evidence-based approaches to evaluate, risk stratify and provide appropriate treatment. As more evidence becomes available, active surveillance may become possible for selected cases of thyroid cancer patients.
Declarations
Acknowledgements
Not applicable.
Funding
No funding sources.
Availability of data and materials
Not applicable.
Authors' contributions
ST was involved in literature search/review and formulation and writing the manuscript. HG provided guidance regarding the literature. HG also assisted with manuscript writing/review. All authors read and approved the final manuscript.
Competing interests
The authors declare that they have no competing interests.
Consent for publication
Not applicable.
Ethics approval and consent to participate
Not applicable.
Open AccessThis article is distributed under the terms of the Creative Commons Attribution 4.0 International License (http://creativecommons.org/licenses/by/4.0/), which permits unrestricted use, distribution, and reproduction in any medium, provided you give appropriate credit to the original author(s) and the source, provide a link to the Creative Commons license, and indicate if changes were made. The Creative Commons Public Domain Dedication waiver (http://creativecommons.org/publicdomain/zero/1.0/) applies to the data made available in this article, unless otherwise stated.
Authors' Affiliations
(1)
Mayo Clinic College of Medicine, Rochester, USA
(2)
Division of Endocrinology, Diabetes, Metabolism, and Nutrition, Mayo Clinic, Rochester, USA